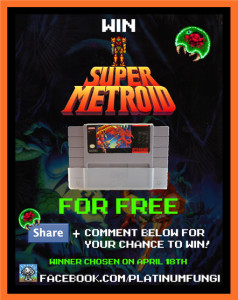 The 20th Anniversary of Super Metroid (the USA release) is right around the corner, and I have some big plans to help celebrate. Up first, is a FREE copy of Super Metroid itself.
To ENTER TO WIN, simply head over to the Ad on my Facebook page, HERE, and then: 1.) Share it, and 2.) comment below the Ad so I know you shared it. That's it!
The WINNER will be selected at random and announced on April 18th, 2014 (The 20th Anniversary itself).
Good luck, and stay tuned for more Metroid Anniversary Celebration news…