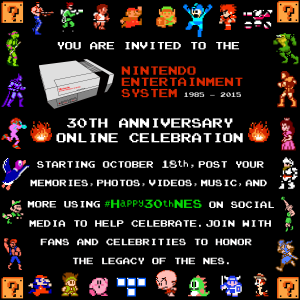 In honor of the Nintendo Entertainment System's 30th Anniversary, Nintendo fans are hosting an online party and you're invited! The NES forever changed the gaming industry and so many of our lives, this is a wonderful opportunity to team up with gamers around the world and celebrate something we all hold dear. Video game legends like Gamemaster Howard, Dan Owsen, Hirokazu "Chip" Tanaka, David Wise, Zelda Williams, and John Romero have also been invited. It should be quite a party!
If you'd like to join in, simply post content with the hashtag #Happy30thNES starting Sunday, October 18th. Memories, photos, videos, music, artwork, cosplay, diy projects, tributes, or anything else you can think of that Nintendo fans would enjoy. Post on any social media or anywhere on the web. Remember to search for the hashtag to see what everyone else is posting too.
Let's make this an anniversary to remember!