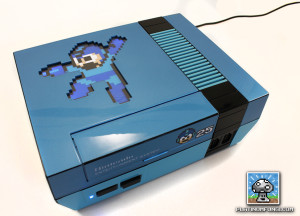 I have been thrilled by the amazing feedback I've received about this custom NES since I went public with it earlier this month

I thank each and every one of you that have sent me messages, 'Liked' my Facebook page, and shared my work on your websites and with your friends. It truly means a lot to me. Your positive comments and support keep me motivated to continue creating NES art.
Due to popular demand, I have decided to auction it off in about two weeks. I will keep you updated as we get closer to the date, and eventually post the link to the auction both here and on my Facebook page. I will also soon publicly show the as of yet unseen custom controllers that go along with this system! I hope you all enjoy them.
Stay tuned, and THANK YOU ALL for your support!
Sincerely,
Ryan Fitzpatrick
aka Platinumfungi