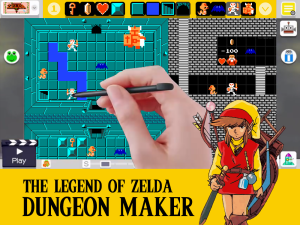 With the release of Super Mario Maker earlier this year, fans have anxiously speculated what other titles might be released in this incredible new series. The most anticipated entry is certainly The Legend of Zelda. Being one of the most popular Nintendo franchises, and having multiple 2D and pseudo 2D games to choose from, it seems like a perfect fit.
If you're excited about this possibility, please read on for more info and how to join the fun.
We are aware that Super Mario Maker producer, Takashi Tezuka, has stated that creating a Zelda themed Maker game could be a challenge, and will most likely not be developed any time soon. However, we believe that by showing our support for such a game, and stepping up to help brainstorm creative solutions to work around any possible challenges and limitations, we will help show Nintendo that we would love such a game to exist. Super Mario Maker is a masterpiece, and we know that with a bit of creativity, a high quality Legend of Zelda entry in the series can be done as well.
I hope you will join me in this request, and help spread the word!
Hopefully we'll get to play 'The Legend of Zelda: Dungeon Maker' in the somewhat near future

CLICK HERE to see the petition over on Change.org.
Below, I am typing up some of the ideas for the development of such a game. Please join in and brainstorm with me. It would be awesome to see mock-up images of what you think the game might look like too! I've already had a ton of fun sketching out ideas and gameplay mechanics. The more time I spend brainstorming, the more I realize how incredible this game could be.
ZELDA MAKER vs SUPER MARIO MAKER:
One very important thing to keep in consideration is that a Zelda Maker game would be somewhat different from a Mario Maker game. Due to the variation of the source material, it is important not to limit your ideas of what a Zelda Maker game can be solely based off what Super Mario Maker is.
MAKER vs DUNGEON MAKER:
The single biggest possible complication with a 'Zelda Maker' is the massive scope of developing an entire Overworld, complete with a whole series of unique dungeons. The amount of time and effort that would be required to create a high quality design of that magnitude is most likely well beyond what the majority of gamers would want to invest. Thus, I think the most realistic option is creating a game where, just like in Super Mario Maker, we design a single Level/Dungeon that is totally independent of all other Levels/Dungeons. This actually becomes a fun limitation when you realize that the creator is then not only able to design the Dungeon itself, but also dictate the available equipment that the player both starts with and is able to find in each Dungeon. The player cannot take equipment from one Dungeon to the next, so this allows for even greater creative opportunities – no sword challenge, anyone?
WHAT GAMES TO INCLUDE:
With the multitude of 2D and pseudo 2D games, there are many choices. I'm sure there will be challenges to using some of them, but many of the titles have great cross-over potential. Here are some of the possible options:
– The Legend of Zelda (NES)
– Link's Awakening/DX (GB/GBC)
– Oracle of Ages/Seasons (GBC)
– A Link to the Past (SNES)
– Four Swords Adventures (GC)
– The Minish Cap (GBA)
– A Link Between Worlds (3DS)
– BRAND NEW GRAPHICS using current gen capabilities??? (Wii U)
SECRETS/EXTRA/DLC:
Once the basic game engine is in place, it's exciting to think about all the extra additions that could be implemented. Here are a few random things I've thought up.
– In honor of the 30th Anniversary of The Legend of Zelda (Feb 2016), create 8-bit Amiibo of Link, Zelda, the Old Man, etc. These then allow you to play as Zelda, the Old Man, (the Fairy?) etc in game.
– Scan select Amiibo to play as that character. (Mario in a Zelda game anyone?)
– Vote for what the newest updates will include. The most popular choices get implemented. This is a great opportunity for community involvement and to strengthen the relationship between Nintendo and their fans.
Personally, I think the opportunities are endless, and the game could easily become a beloved classic.
Thanks for your support, and for reading! Please help spread the word, and hopefully we'll be playing "The Legend of Zelda: Dungeon Maker" sometime soon

All the best,
Platinumfungi