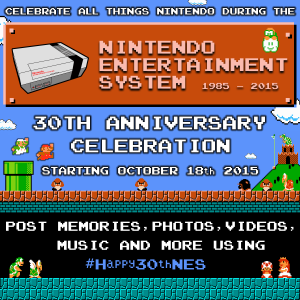 The NES turns 30 (in the USA) on October 18th, and retro gamers around the world are joining together to celebrate! This is an online international event, being held on all social media and every corner of the web. To tie everything together as one big party, we'll be rocking all posts/content with the custom hashtag – #Happy30thNES.
Read on for more details about the event below



This is an event to celebrate all that is Nintendo/NES: the system, ROB the robot, the hundreds of amazing games (Mario, Zelda, Metroid, Mega Man, Contra, Final Fantasy, Double Dragon, Dragon Warrior, Ninja Gaiden, Kirby, Tetris, Battletoads, TMNT, and so many more ), the artwork, the music, cosplay of the characters, the toys, the cartoons, the old funny commercials, the incredible people who created the games – everything you can think of.
If the NES ever made an impact on your life, you should join in! Your participation can be as simple or as elaborate as you would like. Post photos of your gaming collection, write about your favorite memories, post artwork, cosplay, music, make videos, show off Nintendo related projects you've made, photos of yourself in Nintendo clothing, or anything else you can think of! As long as it relates to NES or Nintendo, post it! Use the hashtag #Happy30thNES to tie your posts/content into the celebration.
We're working hard to make this one EPIC party, so please let us know any fun ideas or questions you have. The legions of NES fans are uniting. I hope you will join us for this historic event!
All the best,
Platinumfungi