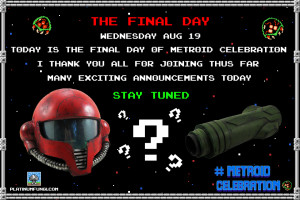 Today, Wednesday Aug 19th, marks the FINAL DAY of the #metroidcelebration on social media and the web. I hope you will join us and make this party go out with a BANG!
Thank you to all who have joined in thus far. It's amazing to see the strength of this community. Good work Bounty Hunters! I'm honored to be among you.
LOTS of announcements coming up today. STAY TUNED!