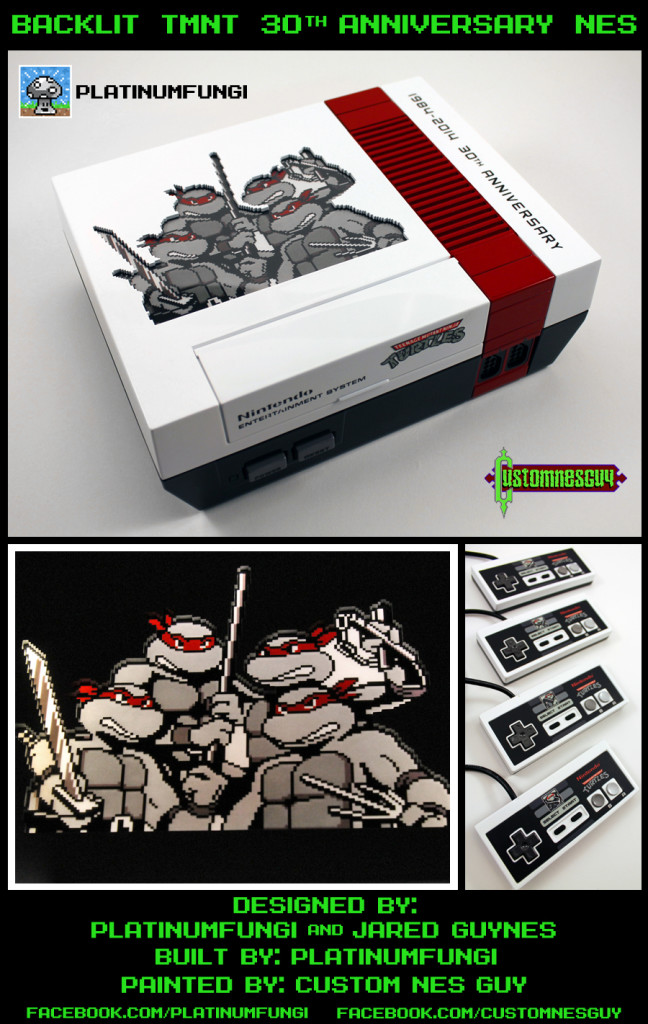 Just in time for the new movie release, we are proud to present the 'Backlit TMNT 30th Anniversary NES'!
Weeks of planning, over 500 messages, 150+ man hours of labor, countless mockups and revisions, working all hours of the day and night, and a lot of love went into this tribute that honors the original black and white TMNT comic books.
This system is by far the most intricate and laborious art piece I have ever created. It is the grand culmination of my skills over the past 7 years of customizing video game systems.We pushed ourselves and our tools to the limit, but we succeeded in what we set out to do – create a one-of-a-kind piece of art that honors the heroes in a half shell.
The cut out design was all done by hand! Using extreme care not to accidentally break any of the tiny pieces, I worked for days to finely sand the edges by hand after it was rough cut out.
The backlit design in this particular system is actually a brand new prototype! Using a secret combination of materials and methods that I have developed over the years, it produces a rich color fully backlit design that works well with the 8 bit pixel art.
The paint is all professional automotive base coat clear coat system. Custom mixed colors with metallic added. All defects from the original 1985 molding process were block sanded out, all rough texture was sanded smooth, all scratches/gouges carefully inspected and sanded smooth, original bottom labels carefully preserved. The clear coat was color sanded and buffed just like you would do on a show car! Estimated 17 hours of work just for the painting, sanding, and buffing (that had to be done by hand).
The system even has custom Audio and Video port decals that match the color palette.
The icing on the cake is four controllers, each with the custom avatar of one of the turtles.
In the end, I hope that TMNT fans appreciate the weeks worth of work that went into this system and enjoy this truly one-of-a-kind design

All the best,
Platinumfungi