Attention: My server is melting from all the traffic about this Mega Man NES. Thank you to everyone who is sharing this. I've removed most of the pictures from this page to restore the site, so if you want to see all the photos please click this link!
Facebook photo album link of all the pictures so my server doesn't explode! click here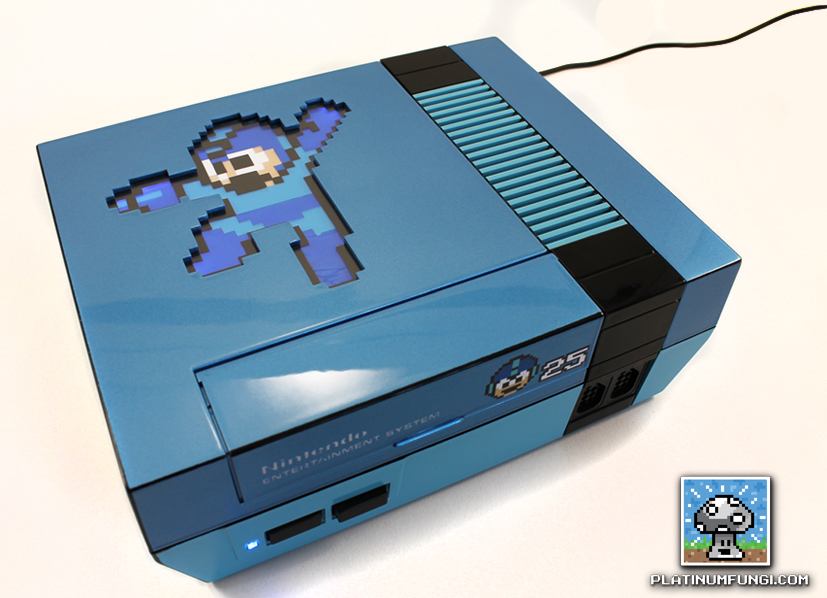 The year is 2013, and a super robot named Mega Man is celebrating his 25th anniversary.  In honor of this special occasion I present to you this one-of-a-kind NES. From one Blue Bomber fan to another, I hope you enjoy my creation.
See lots of photos and the back story after the break.
This is a fully functioning NES and an art piece. I made this mod entirely by hand – the cutting, filing, sanding, wiring, soldering, creating the 8-bit Mega Man pixel by pixel (which I'll just say once – took f.o.r.e.v.e.r.), etc. Everything was done with hand tools. No professional cutting, etching, or other machines were used. I lost track of how many hours went into this weeks ago – it was truly a labor of love.
Having never created a system with this level of detail before, I had to experiment and develop new techniques as I went along. In the end I'm pretty happy with how it turned out. I even made custom decals, including new AV port labels for the side and rear of the system. You can see them in the photos below.
The backlit 8-bit character mod and custom decals were just part of my plan though. I hired the very talented Custom NES Guy to provide an awesome system paint job using high quality automotive paints and clear coat. Thanks again Jared!
(FYI, the colors in the photos, especially the night shots, are a little off compared to what they look like in person but they give you a good idea. Click each photo for a larger view.)
Happy 25th anniversary Mega Man. Wherever you are, we still love you.
Questions? Comments? Project ideas? Let me know

Stay tuned…I'm continuing the Mega Man anniversary celebration soon…
PF