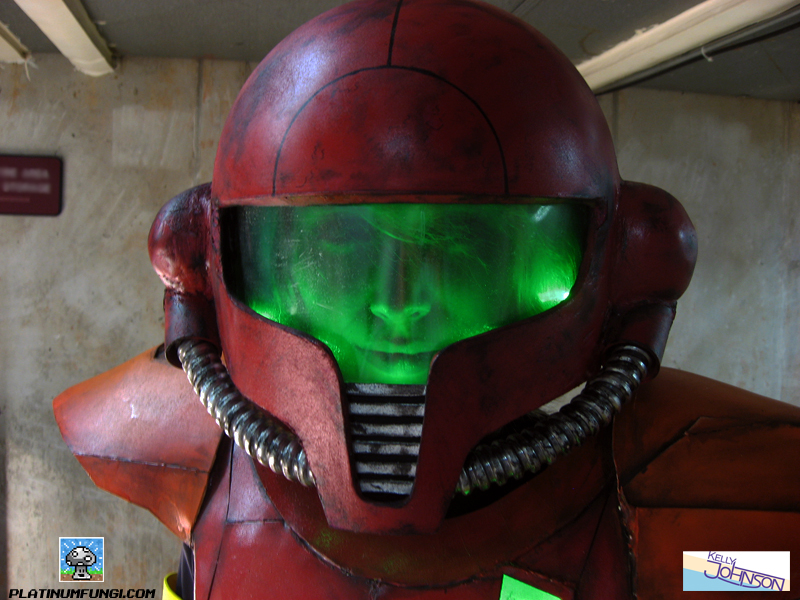 Back in the Summer of 2007, I decided I wanted to have a Metroid costume for Halloween. Metroid Prime 3: Corruption was about to come out and Metroid was in the limelight. I had never created a helmet or full body costume though, so unfortunately I didn't know where to begin.
I did a fair amount of research and created a prototype, but ultimately it just didn't happen. Halloween came and went with no Metroid love. I was very disappointed, but I hoped that one day I'd revisit the project and complete it.
Almost 5 years later… that day arrived

See the DIY Guide and read the full story after the break.
Besides turning NES systems into pieces of art, I occasionally create video game themed props and costumes/cosplay.  As soon as I heard that a few friends of mine were thinking about doing a short Metroid fan film, I had to be part of it – this was finally my chance to create that helmet I didn't finish back in 2007.
Luckily for us, we found a local female artist, Kelly Johnson, who was a Metroid fan and had created a Power Suit costume (sans helmet) for Halloween a few years ago. So, we decided by combining her pre-existing costume with my helmet and upgrades/modifications, we'd be ready to roll.
The following information is a guide to create a battle damaged/worn looking Metroid Power Suit helmet. There are many different artist's representations of what the helmet actually looks like, so you can feel free to customize any steps along the way. This procedure worked well for me with the materials and budget I had, but something else might work better for you. Keep in mind, I created this LONG before 3D printers and pepakura were mainstream.
Be creative and have fun!
Is your favorite Metroid music cranked up in the background? Yes? Ok, here we go.
Required Parts List:
Several images of Metroid helmets. (Find them online. Do an image search and save them.) You're going to refer to these often.
Motorcycle or other full helmet
Sheet acrylic
Sheet extruded polystrene
Scrap pieces of plastic pipe
Electrical conduit (bought from any hardware store in the electrical department)
Green transparent material to line the visor with. Wrapping paper, 3 ring binder dividers, gels, etc.
Plaster of paris, bondo, or some workable material you can coat the extruded polystrene with.
Thick poster board (the paper board type that's like cereal box, not the type with the styrofoam core)
Small scrap of thin black poster board, material, or other thin and black sheet.
Bandsaw or jigsaw
Scrap lumber
Black permanent marker (sharpie)
Dremel with cutting bit, or your favorite type of hand saw
Heat gun
Masking tape
Hot glue gun with glue sticks
Sandpaper
Metal snips/aviation shears/something to cut metal with
Scissors
Exacto knife
Red, black, and silver paint. Other colors like orange, purple, or pink will help add nice extra detail.
Optional Gear:
Foam padding
Soldering iron, solder, Green LEDs, wire, two way switch, battery pack, batteries, heat shrink tubing, misc electrical for the green lighting inside the helmet
Respirator for painting
Safety goggles
Gloves
Primer (Use before you apply the paint for a better looking finished result.)
Your favorite Metroid music blaring in the background for inspiration.
For most of my projects, two major things dictate the construction techniques I choose: budget and deadlines. I wanted to keep this helmet as cheap as possible, so my first stop was the local thrift stores.
I got lucky and scored exactly what I was looking for – a $10 motorcycle helmet. Perfect! It was a low quality helmet to begin with, but for a project like this it was perfect.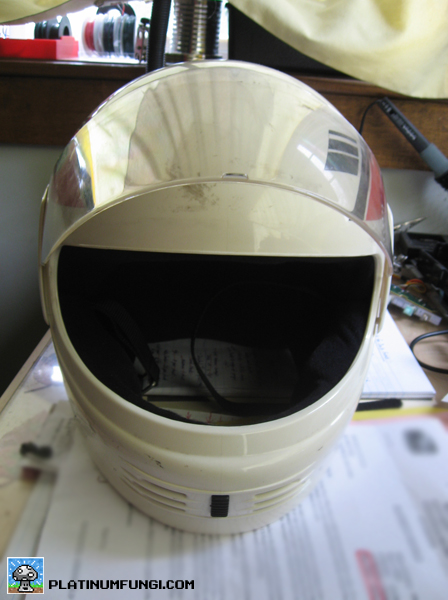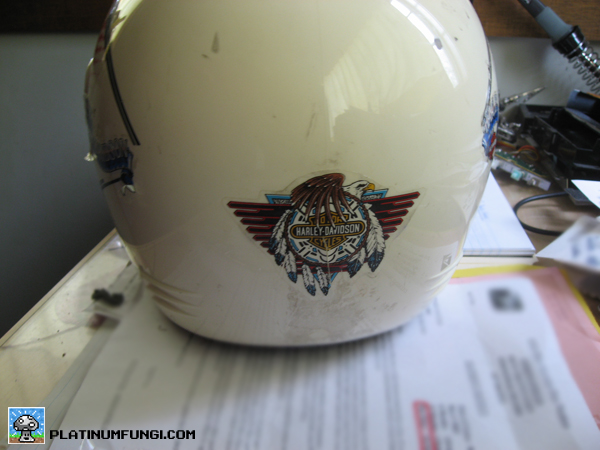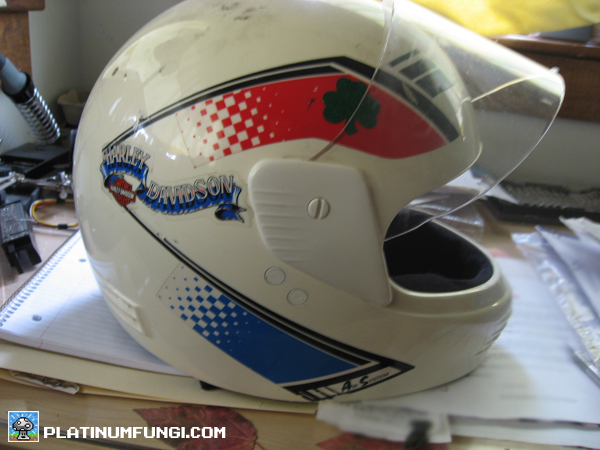 Start off by removing any decals on the exterior of the helmet. Give it a light cleaning with soap and warm water while you're at it.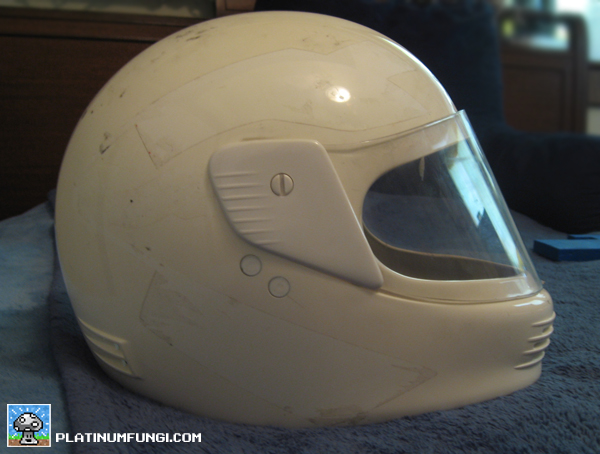 I wanted to have as much space to play with as possible inside the helmet, so I decided to remove the safety padding. Use your own judgement on this. If you feel like your helmet fits your head perfectly, then you might not want to remove the inner padding.
My helmet had a styrofoam cap covered with material as the inner padding. Using a flat head screwdriver, I gently pried around the edges until it popped loose.
It will probably be a tight fit, so go slow and keep shifting it around until you can remove it.
Although I took almost everything out of the inside of the helmet, I did leave one thing – the chin strap. I'd recommend you do the same.
Here we have the internal padding separated from the helmet. Maybe I can use that styrofoam cap for another project…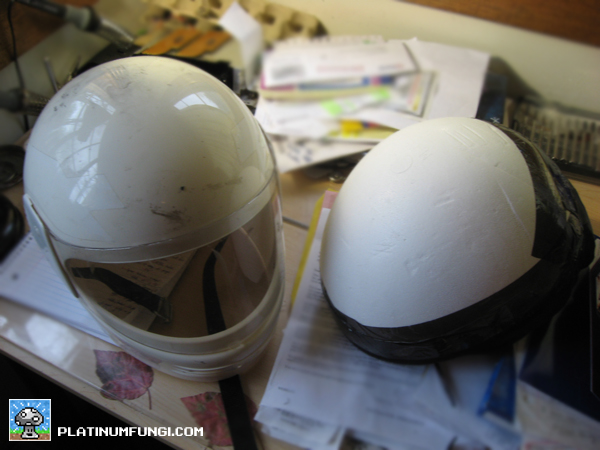 You're ready to start drawing on the helmet. Draw on the details before you do any cutting. You're going to need to look at the shape of your helmet and decide what looks good as is, and what you're going to custom build.  I thought I liked the shape of this helmet, so I began roughly drawing on all my details.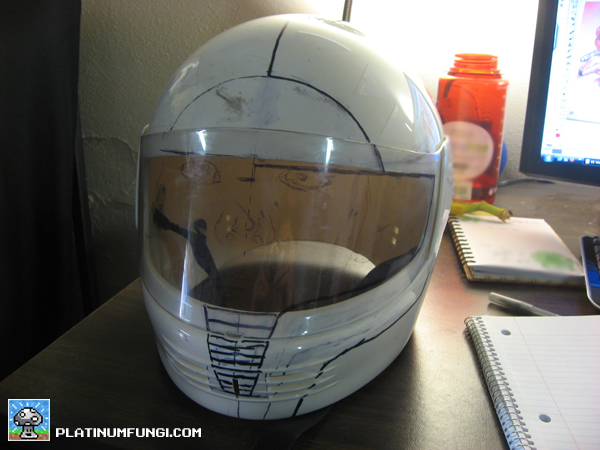 Templates help make the details even on both sides. I took a sheet of paper and traced the outlines of the visor, then cut out that shape and transferred it to the other side. You don't have to, but if you want something with two even halves, I recommend it.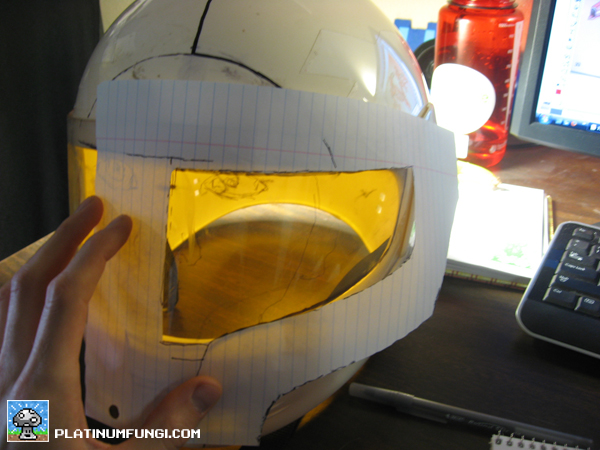 After drawing on the initial details, you should have something like the photo below. Remember to roughly mark where you want the "ears" to be too. You really have to look at reference photos of Metroid helmets (do a Google image search) and compare them to your helmet. If you want your helmet to look good, you're going to have to cut things off and glue things on.
Initially I hoped to use the original visor instead of taking the time to create a custom one. I quickly realized that wasn't going to work, so I decided to hack up the original to try and get the shape I wanted.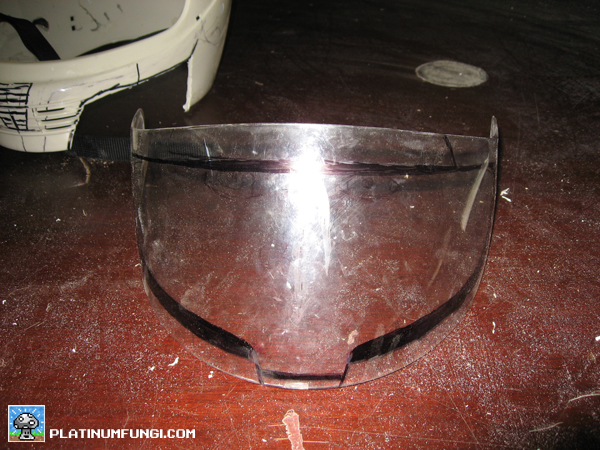 I began cutting out the "mouthpiece" area and chin. Again, look at your reference photos and draw your details on the helmet with marker.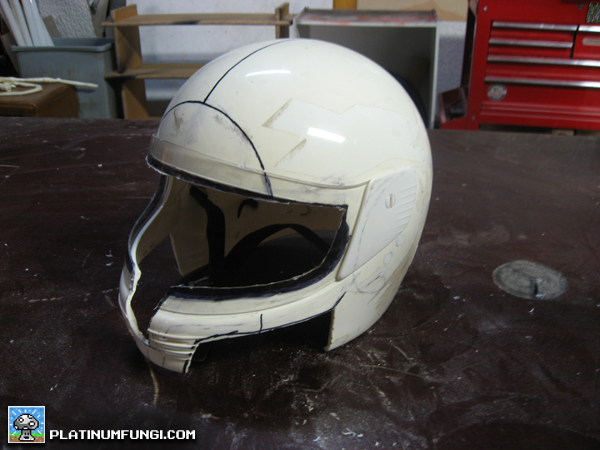 Progress shot. So far so good.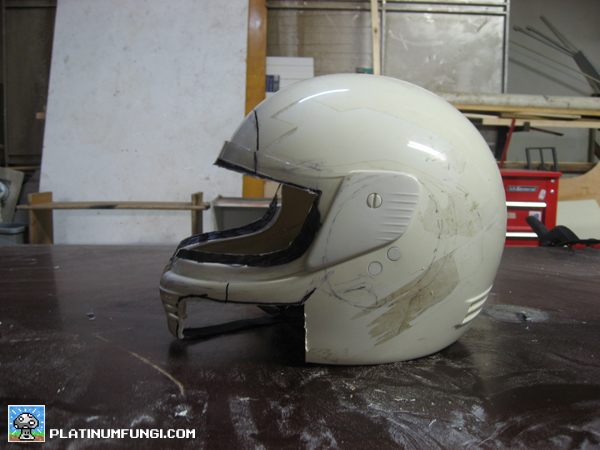 I wanted a nice rounded edge along the base of the helmet, so I cut off some more plastic.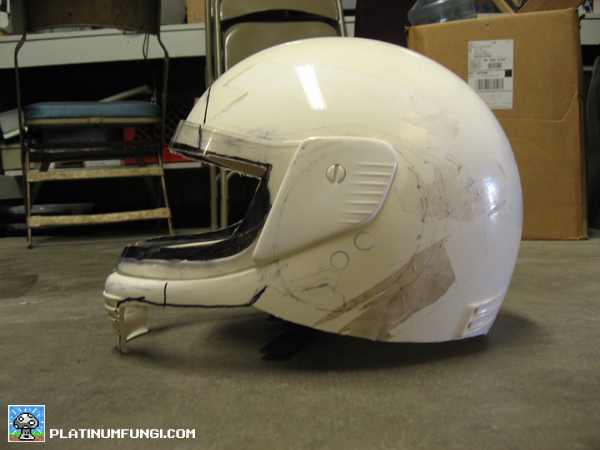 At this point I really wasn't satisfied with how the front of the helmet looked. The angles seemed all off and the shape just wasn't right. I decided to make my own.
I wanted something that was flexible so it would make a nice curve that followed the inside (forehead) edge of the helmet.  Thick poster board was the answer. (This is literally a thick sheet of fiber board from a local craft store) Take a sheet of the poster board, cut it to fit in the helmet, and do a visual check. If the sheet is large enough, then it's time to cut off the front of the helmet!
Use a dremel with a cutting bit, or carefully use your favorite type of hand saw.
Once the front of the helmet is cut off, put your poster board back in and tape or hot glue it temporarily in place. Sketch out the new shape.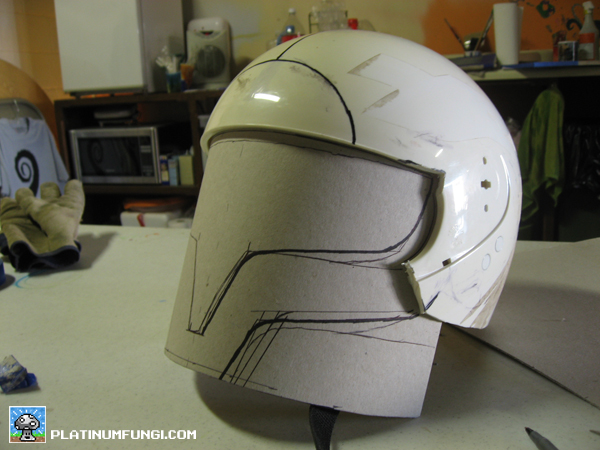 Once you're satisfied with the shape, start cutting off the excess poster board.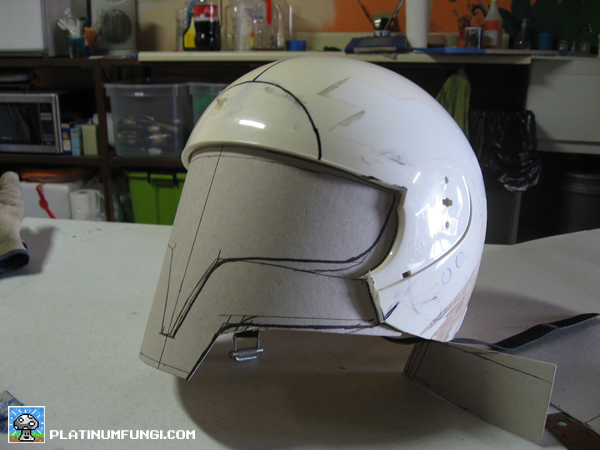 Remove the poster board and trace yourself a pattern. Use this pattern to make multiple layers that you'll (eventually) glue together to make this part of the helmet as thick as you need. Not only do we want this part of the helmet to be flush with the outer edge of the original plastic (near your cheek bones), but additional layers make it much stronger.
Here's my template.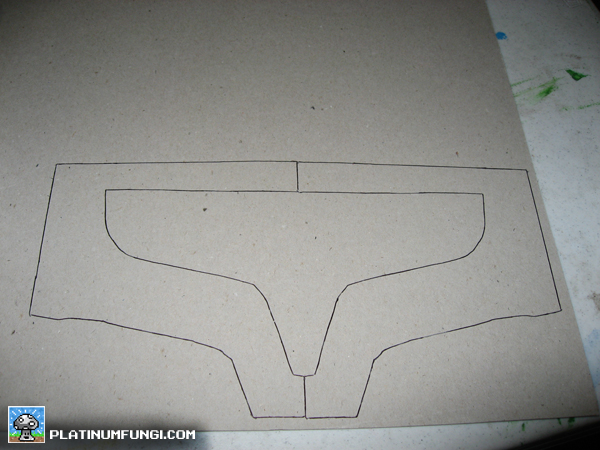 With the template made, go ahead and hot glue your base layer inside the helmet. Don't use any glue on the outside just yet.
Here you can see the depth difference of the single sheet of poster board compared to the plastic of the helmet. Cut out and trim additional layers of the poster board and glue them to the base layer of poster board until it is flush (the same depth) as the plastic of the helmet. Fill in any little gaps with hot glue.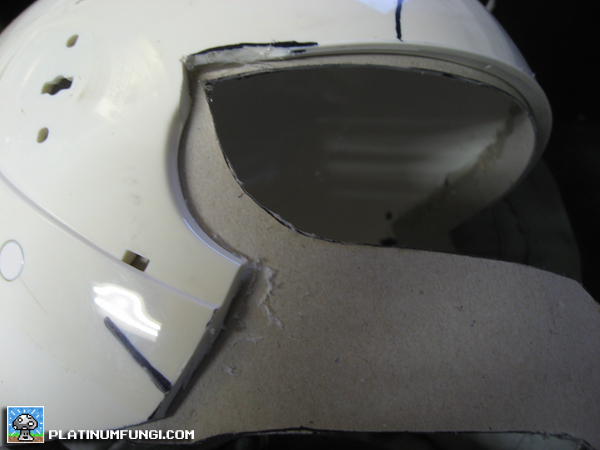 Now it's time to think about the "ears" of the helmet – Those weird shaped things that everyone always wonders about. What are they anyway? Take your marker and draw out the rough shape of what you want. Refer to reference photos of Metroid helmets as needed.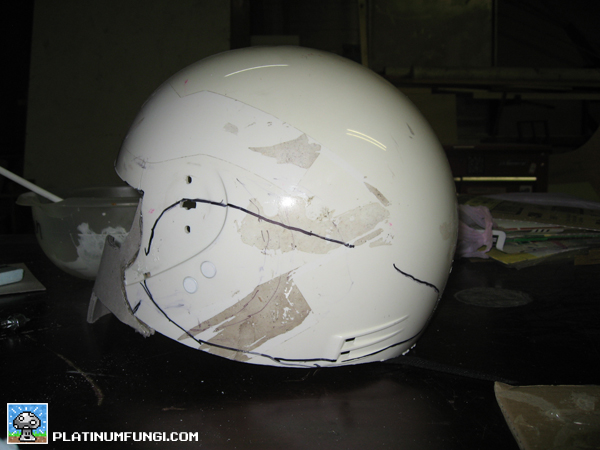 I only had thin sheet extruded polystrene sitting around, so I knew I needed to glue layers of it together to get the thickness I wanted. If you happen to have some super thick polystrene,  you might be able to hand carve/sand it to shape.
Here's what I did.
Make a template out of scrap poster board that shows the curve of the actual helmet on one side, and is roughly the dimensions (the width and length) you want the ear to be. Hold it up to your "ear" outline on the helmet and make sure it's big enough. Mine is the light brown shape on the table. Then, trace that template onto the polystrene. Cut these out using a band saw or jig saw. This will form a basic block that will be cut down to become an "ear".
On a sheet of paper, draw the outline of the "ear" shape you want. If you already drew this on your helmet, just trace around that.  Again, look at your reference photos of Metroid helmets to determine exactly what you want.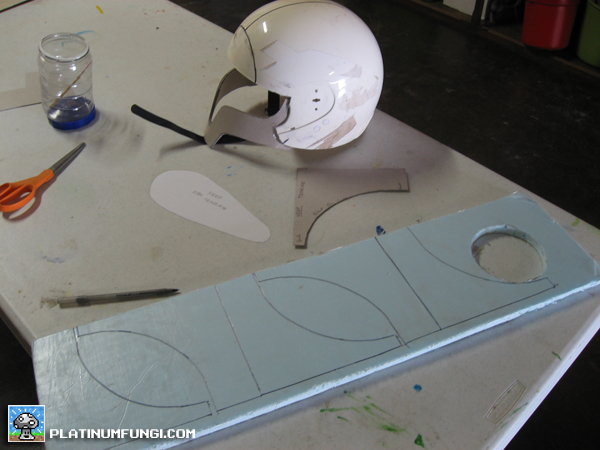 Take your polystrene shapes and stack them together. Glue enough of them together so you can lay the paper template on them and trace the shape onto the polystrene block as shown below.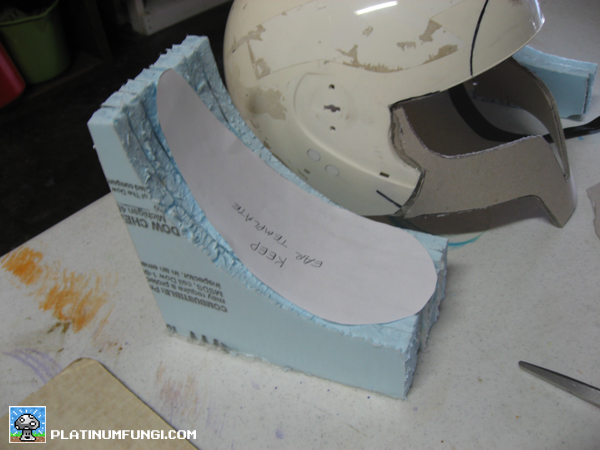 You should have something like this: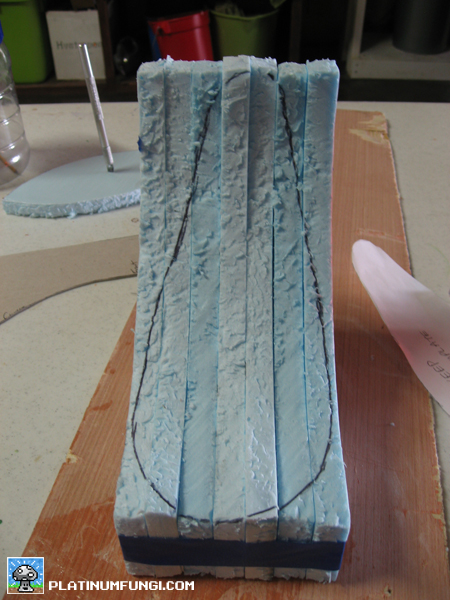 Hold this up to your helmet and see how it looks. If it looks OK, you're ready to shape it. If not, look at your reference photos again and see what you want to change.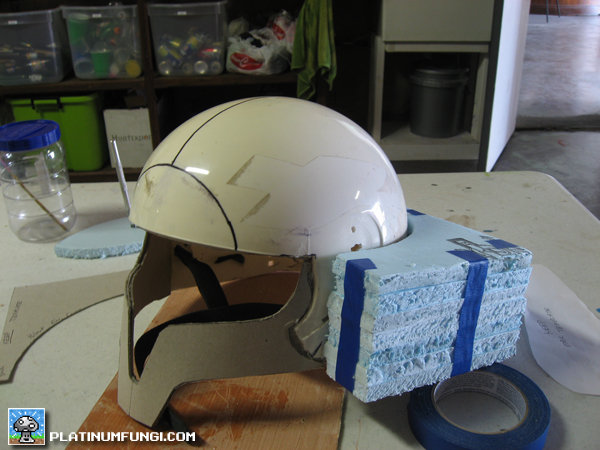 The easiest way to shape them is with a band saw. Carefully cut out your outline.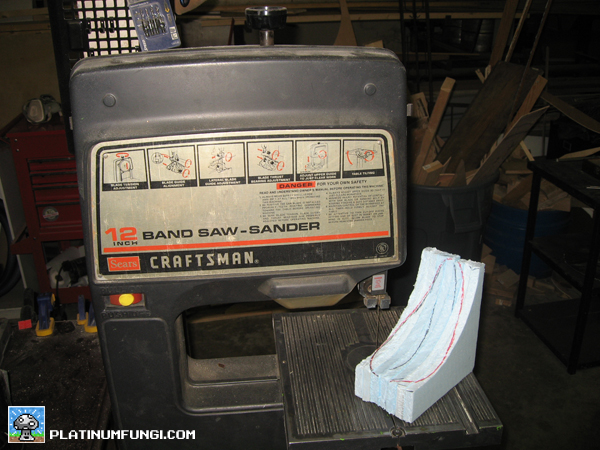 Then, begin cutting small pieces off the outer edge to form the basic rounded shape.  You should have something like this: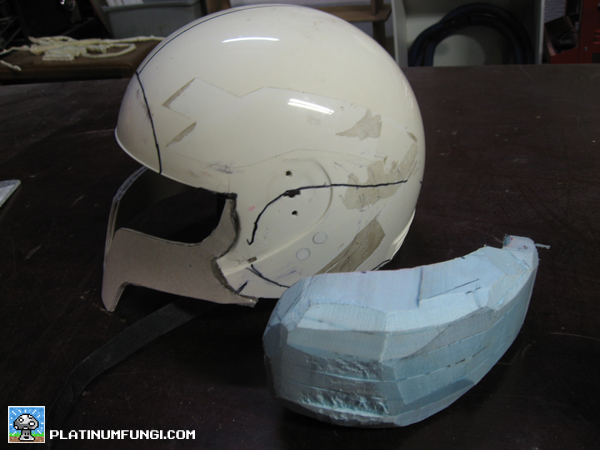 Use sandpaper to smooth out the edges and make the ears nice and rounded. Here is a before and after sanding example: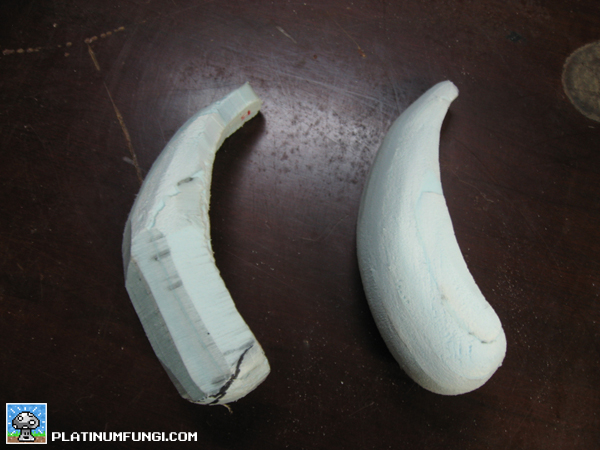 Once the "ears" are sanded, do one final test fit, and then hot glue them on. Hold them in place for a few moments to make sure the glue is dry.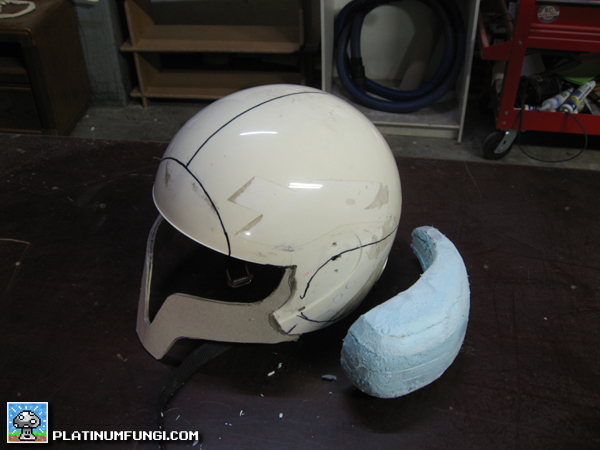 You should have something like this: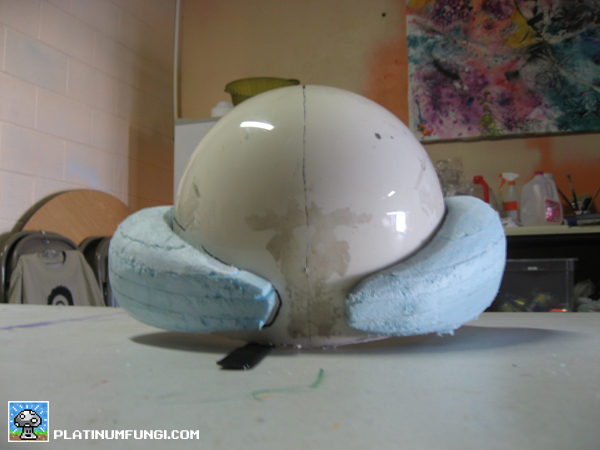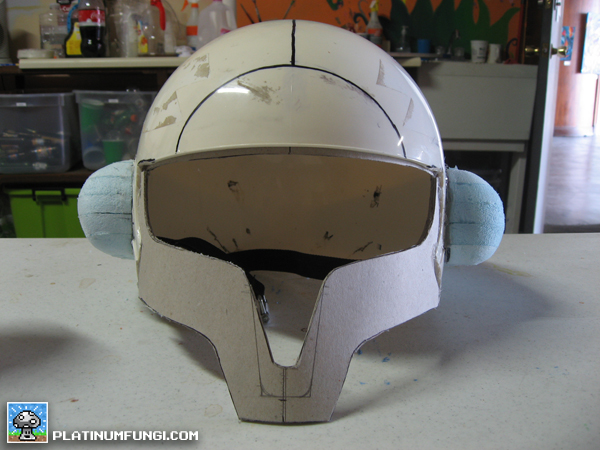 After looking at reference Metroid helmet art, I decided to redo my mouth. I carefully cut the poster board with an exacto knife.
At this point it's time to make the grill for the mouth. I wanted something quick, easy, and cheap. Poster board once again to the rescue! I drew out a basic grill pattern on a scrap piece of poster board.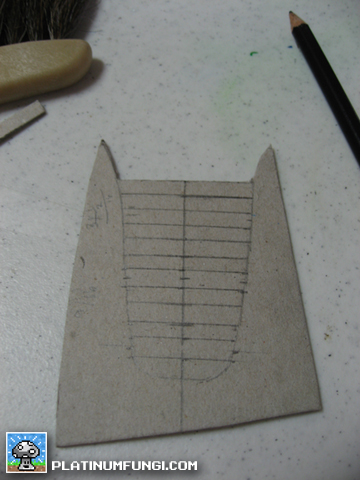 Using my exacto knife, I carefully cut out every other section of the grill.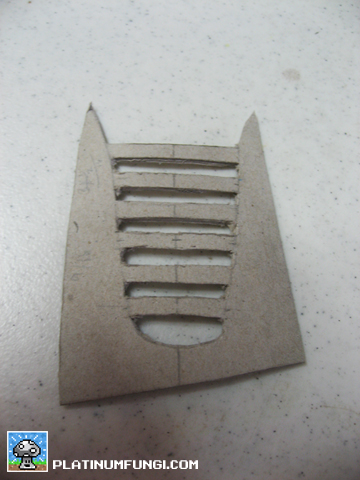 Hold it up and see what it looks like. Not too bad, eh? Once you're satisfied with the look, set it aside. Do not glue it in right now. That comes later.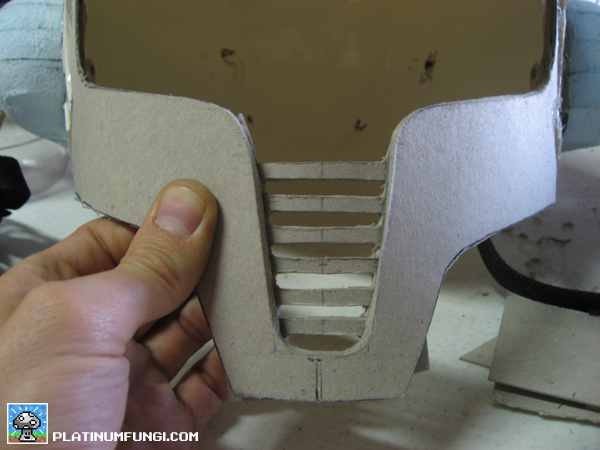 Next up, the ports for the breathing tubes. Cut off a short length of scrap plastic pipe. Cut it at an angle so it directs the breathing tube down toward the mouth area.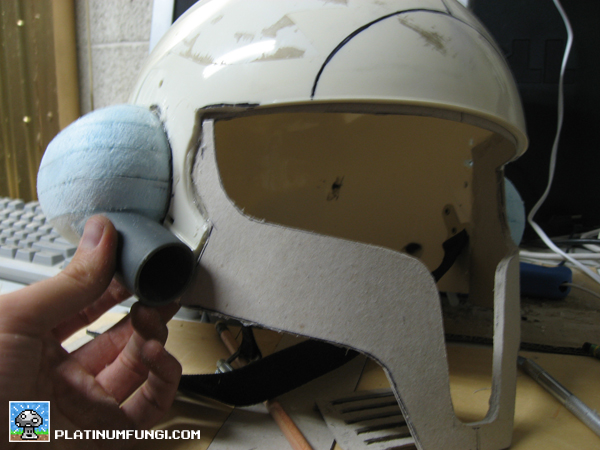 My scraps of pipe were a little too short, so I capped off the back open end with some little pieces of poster board cut to shape and hot glued on.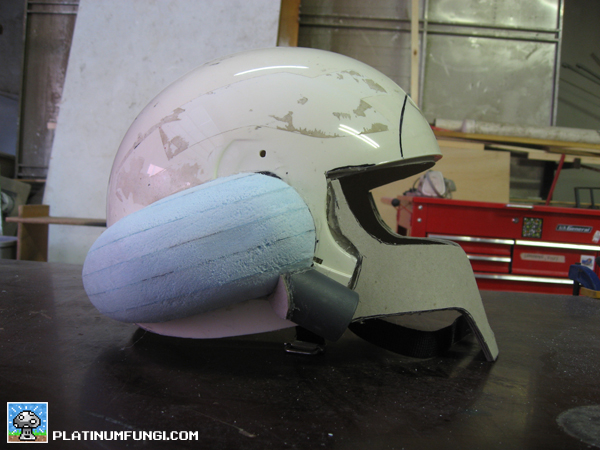 Hot glue both ports in place once you're satisfied with them.
You're getting there! Next up, we're going to cover the "ears" with a hardening material so we can sand, prime, and paint them. Now is also the time to fill in any little gaps.
I only had plaster of paris at my disposal, but bondo would be a MUCH better alternative. Plaster of paris chips and flakes off very easily. Bondo, although much more time consuming to sand, is far stronger and will outlast a cheaper substitute.
Take whatever you have and cover the "ears" and fill in any gaps. Follow the directions on the packaging. If you're going for a battle damaged look, remember that some gaps, chips, etc will help your effect, so leave them.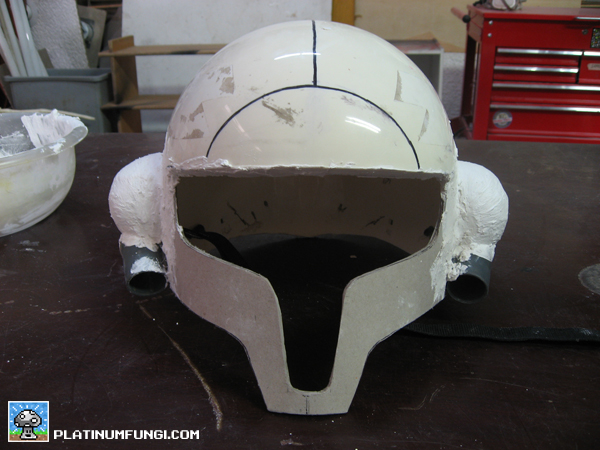 Once everything is dry, sand it down.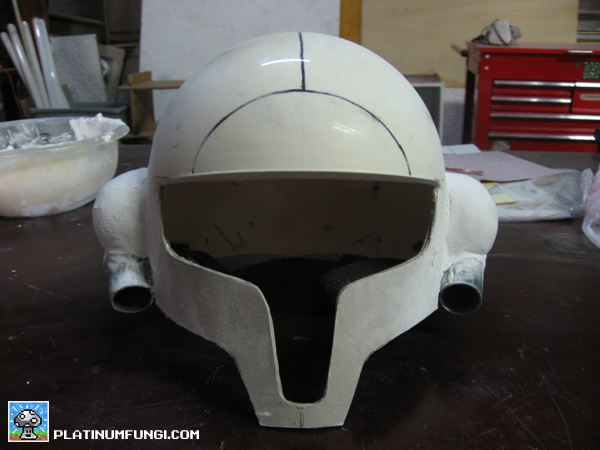 We're almost ready to paint! The last thing I did was add some additional pieces to the chin area. These pieces act as support for the breathing tubes that we'll be adding soon. They also help hide your face, keep the LED lighting inside the helmet, add strength, and just overall make the helmet look a lot better. The pieces around your chin need to be wide enough to support the electrical conduit you bought because the conduit will enter/exit the helmet here. The pieces by your cheeks can be whatever size looks good to you. If this doesn't make sense, scroll down and read more about installing the conduit, then come back here.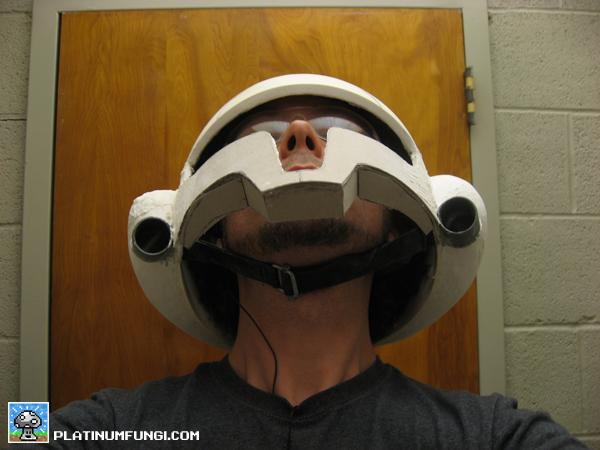 It's time to…Prime! (get it?) It would be a good idea to mask off your chin strap so you don't get paint all over it. I was too impatient. Wear your respirator while priming and painting if you like your lungs.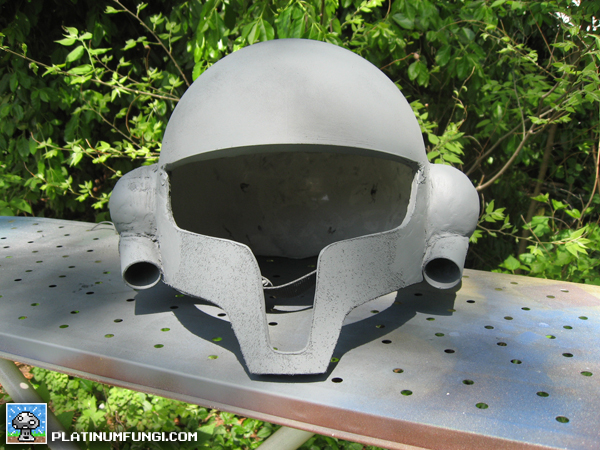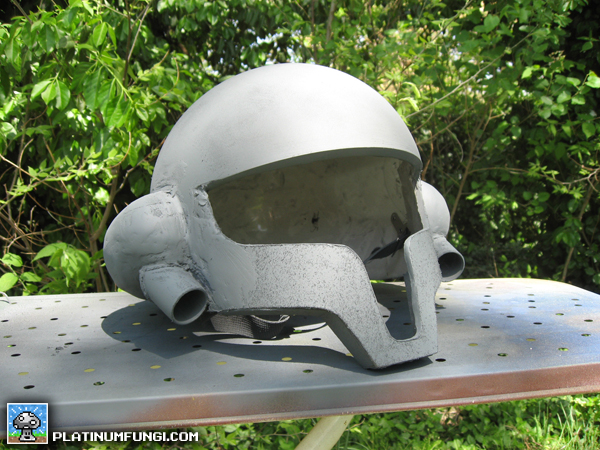 You'll notice the poster board had a lot of fuzz on it from being sanded. If this happens to you, just take some fine grit sand paper and lightly go over it before painting. It will knock all the fuzz off.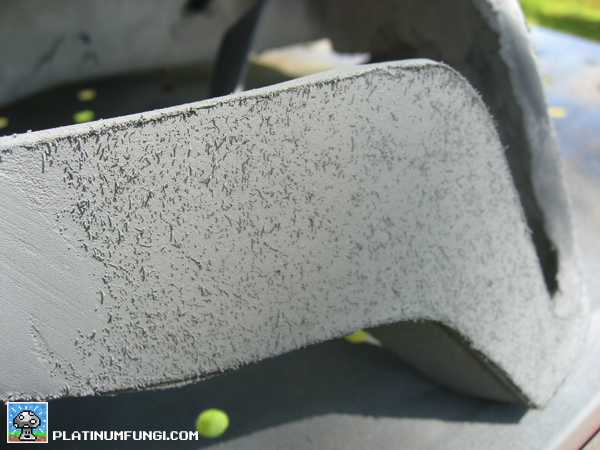 Here it is after I sanded the fuzz off the poster board.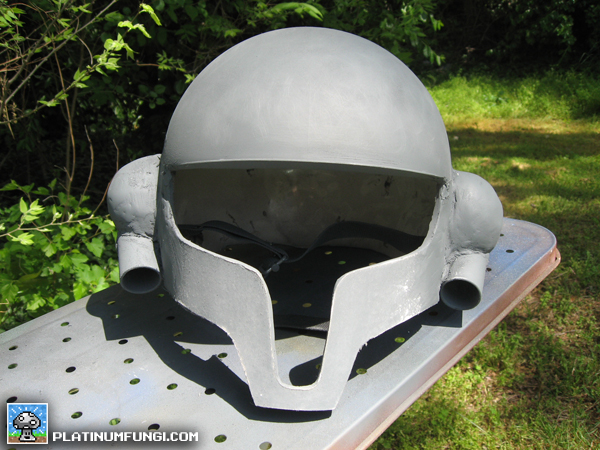 I hung the helmet upside by the chin strap so I could paint the entire thing during each coat. Again, mask off that strap if you don't want any paint on it.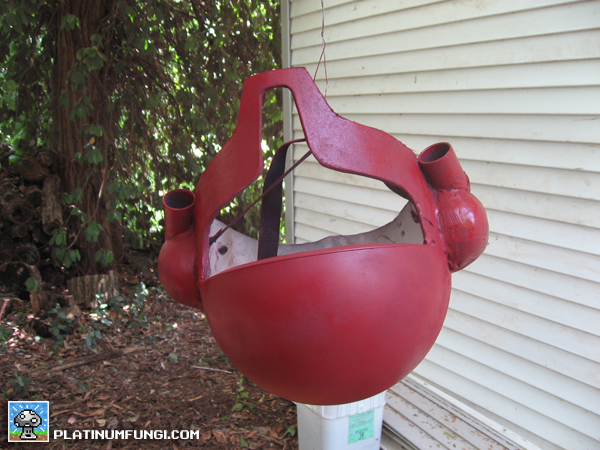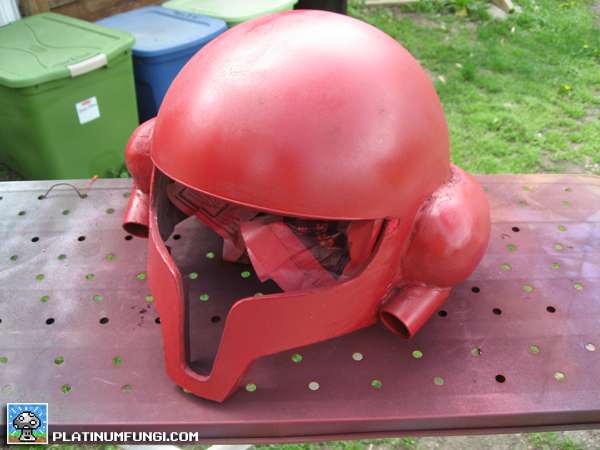 Once the helmet has been painted red, you're ready for the final details. If you're any Metroid fan at all, you should be very excited by now. I couldn't wait for mine to be finished when I was this far along.
To give the mouth grill (that you made earlier) more depth, cut very thin strips of poster board and hot glue them on the inside (side by your face). Layer them up so you have several layers glued in place.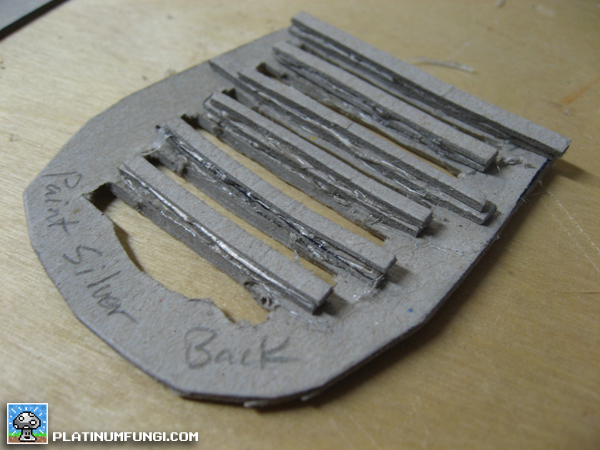 Do a test fit. It should look something like this: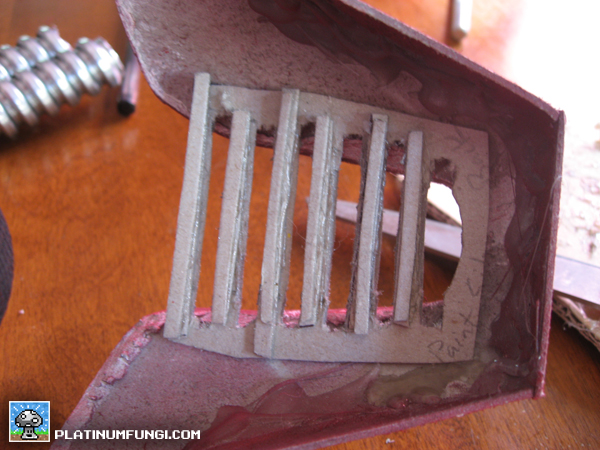 Paint the grill silver. I used whatever cheap spray paint I could find. Then, hot glue the grill in place.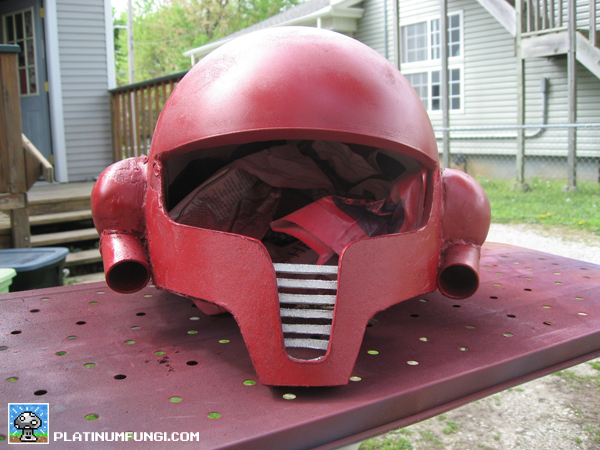 Take your electrical conduit and aviation shears (or other metal cutting tool). Stick one end into the ports on the "ears" and roughly measure out lengths that will fit into the mouth/grill area.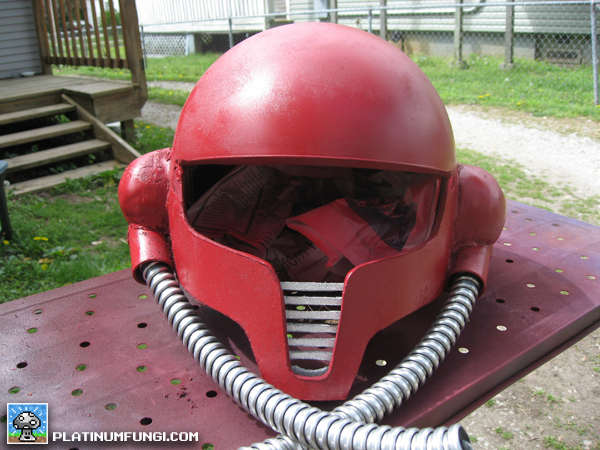 Cut out two notches from the poster board to allow the electrical conduit to slide into the mouth/grill area, one from either side.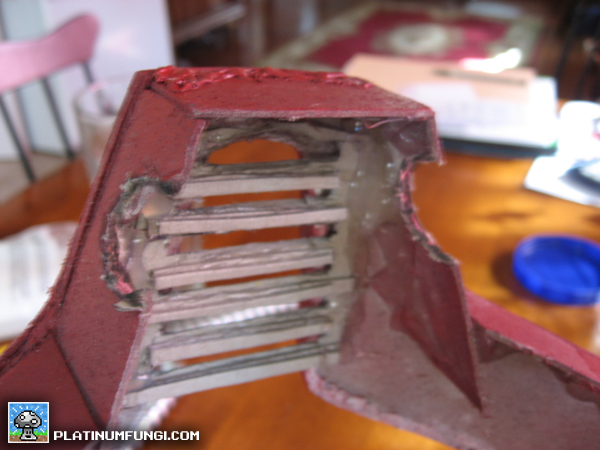 To help with the illusion of depth, cut out a strip of black poster board, construction paper, or any thin black material you can find.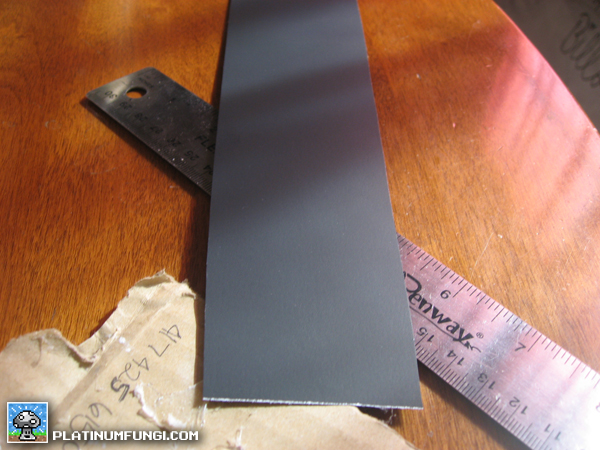 Take that strip, trim to fit on the inside of the grill and hot glue in place. Then take the two pieces of electrical conduit and hot glue them in place too. Trim off any excess with your aviation shears (or other metal cutting tool).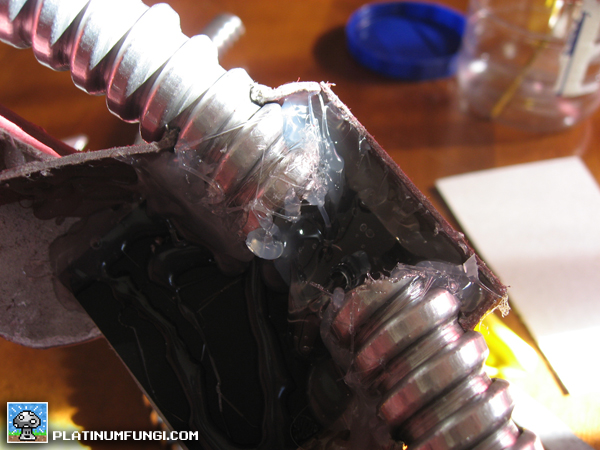 I wanted a little protective barrier between the wearer's mouth and the somewhat sharp metal of the conduit, so I added a little piece of poster board wrapped around the area. Hot glue in place.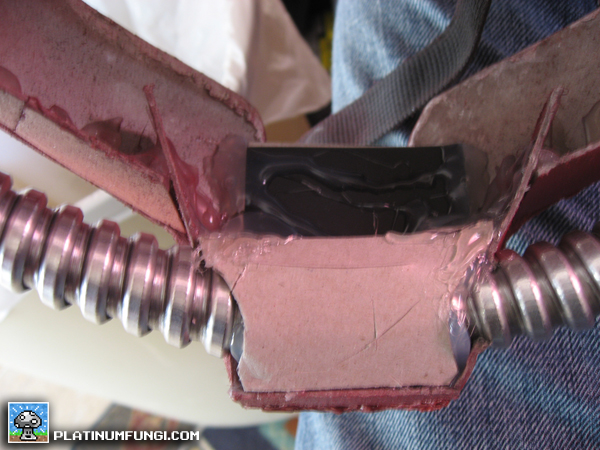 Painting the fine details! Using black paint and various sponges and brushes, add "battle damage".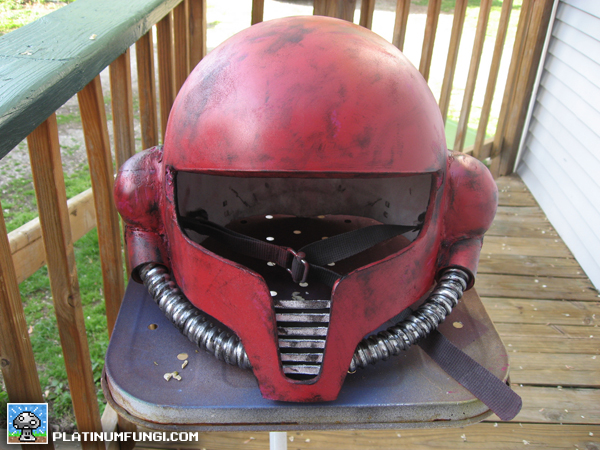 Use orange, pink, purple, or any other color you see fit to help add extra detail and depth. Here's a close up look at some of my damage.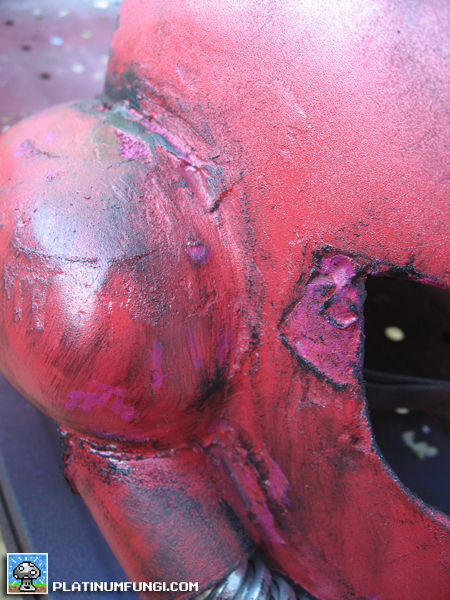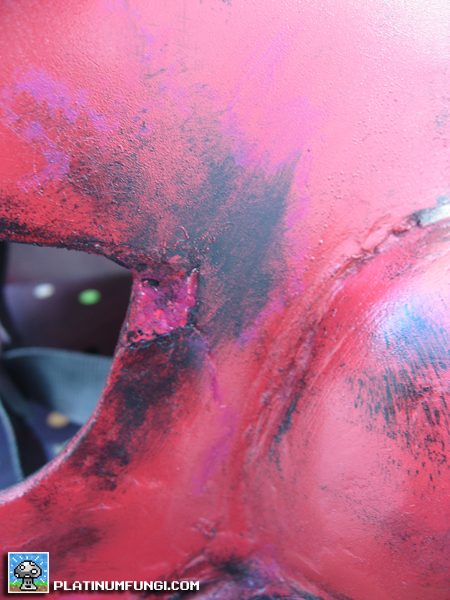 Once your painting is completed, it's time for the custom visor. Using the old visor as a guide, and then making another template based off the inner curve (at your forehead when wearing the helmet), I made this template below. Trace it multiple times onto a sheet of scrap lumber and cut out with a jig saw or band saw.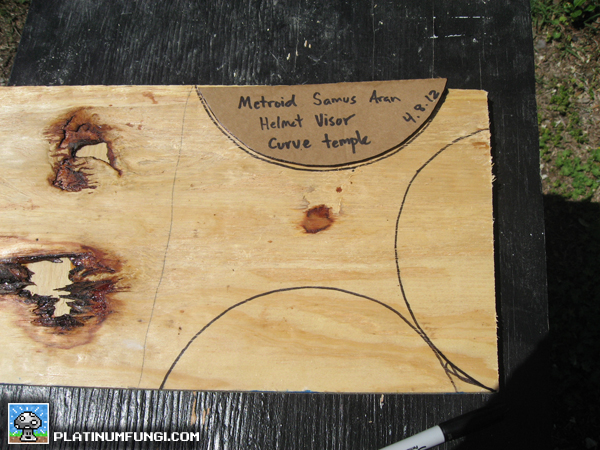 Keep cutting out pieces and set them side by side. We're going to use this form to heat the sheet acrylic over. As it heats up, the acrylic falls down over the form and takes on the curvature we've created.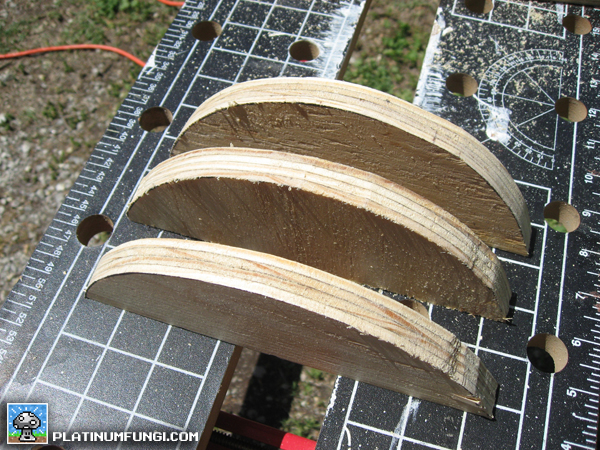 Them press them together. Screw or nail them together so they don't slip around while you work.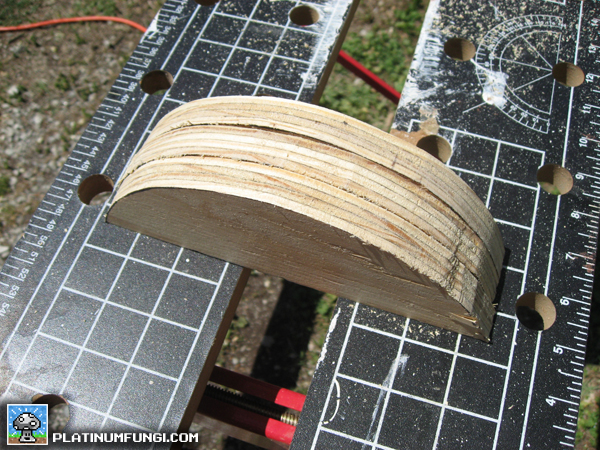 Take your sheet acrylic and cut it roughly to size with a band saw or jig saw. You'll want it a little bigger than the actual visor opening in the helmet so you have overlap on the inside that you can hot glue in place without seeing the hot glue from the outside. Remove the protective film.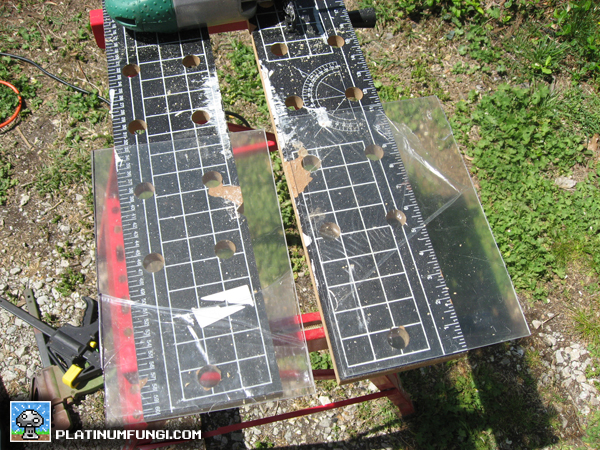 Place the sheet acrylic over the form and heat it using your heat gun. Continue heating it up until it slowly starts conforming to the curve of the lumber. You might have to gently pull on the edges while heating to speed up the process.
Be careful of putting too much pressure on the acrylic while it is heated as you can easily leave fingerprints.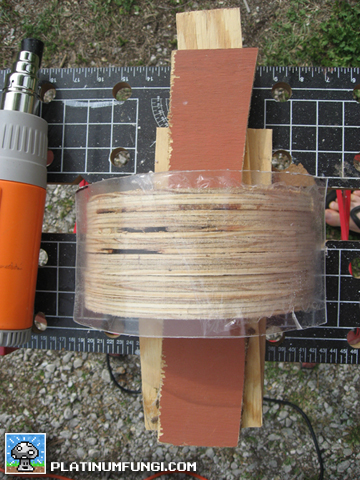 Here you can see it's coming along nicely: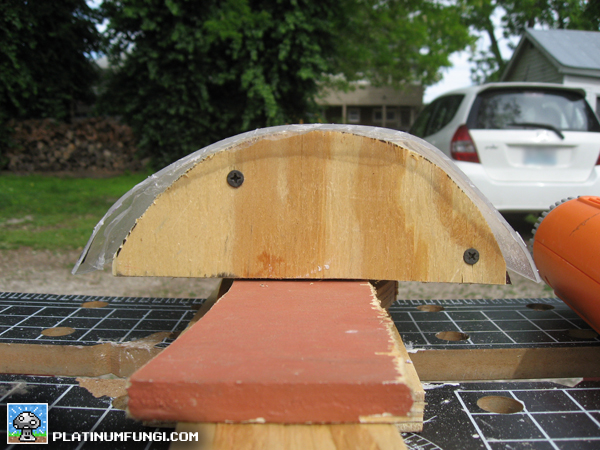 After the acrylic is in the shape you desire, it's time to install it. Do a test fit, then hot glue it in place.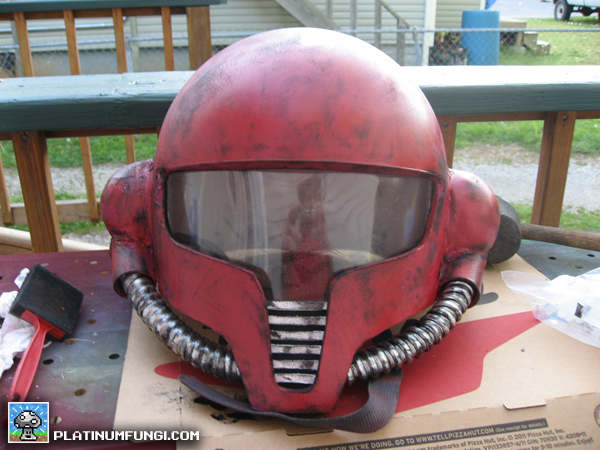 You're almost there! Next up, adding color to the visor. Use any transparent thin film you can find that is green. Wrapping paper, three ring binder dividers, gels, whatever. Trim to fit, then hot glue or tape in place.
A friend had given me these tinted three ring binder dividers and I wanted to try them out. I hoped that by combining them it would look greenish. Unfortunately it didn't. I fixed it later on.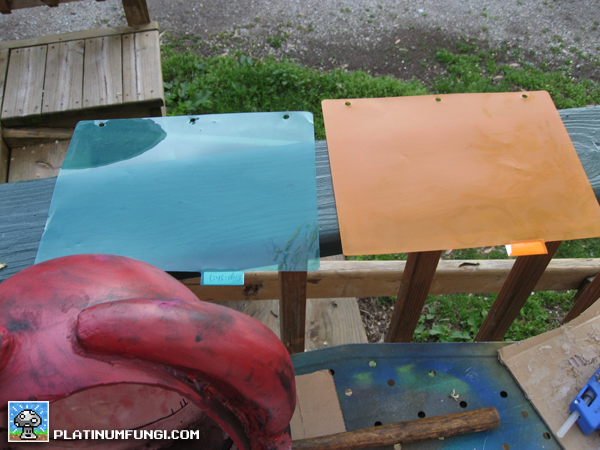 Now on to the decorative details. For the half circle on the forehead of the helmet, I traced a CD onto a sheet of paper. I then cut out the CD shape.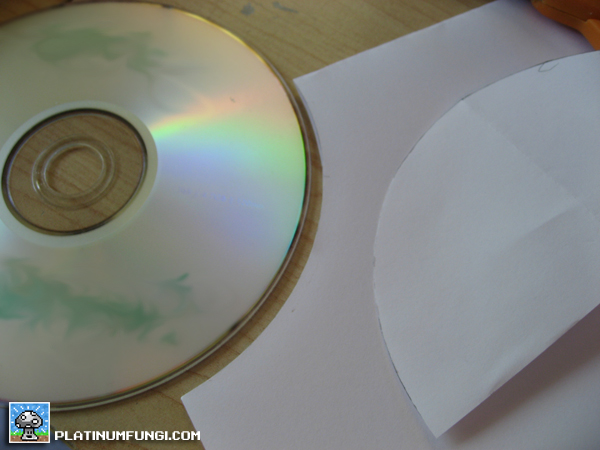 Holding the paper template up to the helmet, I traced the curve onto the helmet using a black permanent marker.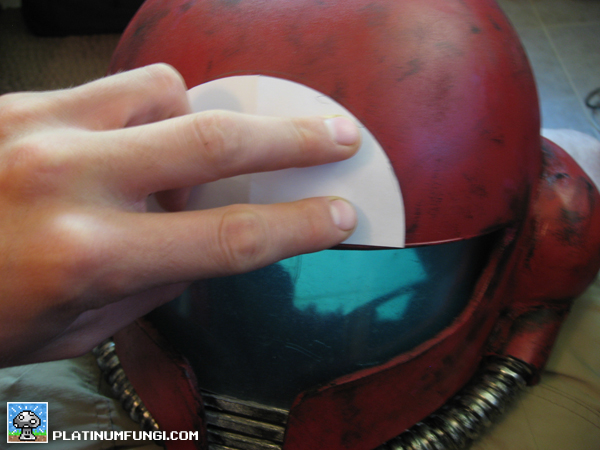 It worked very well.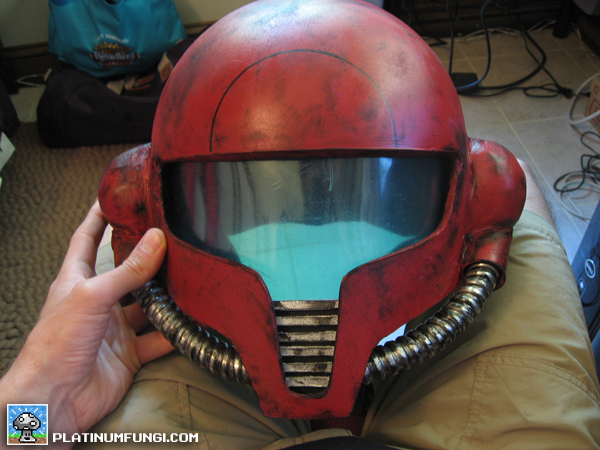 Go crazy. Here are some of the details I made on mine: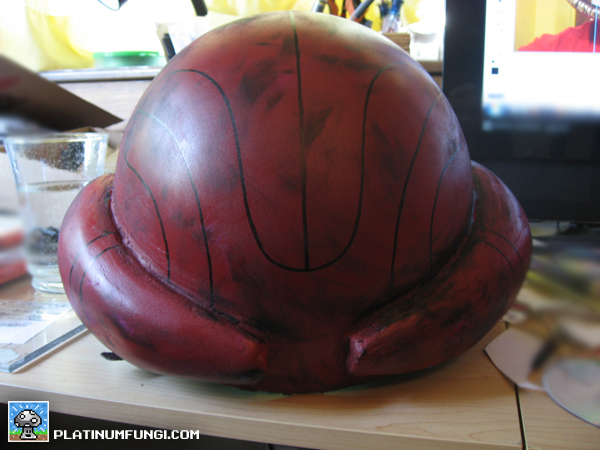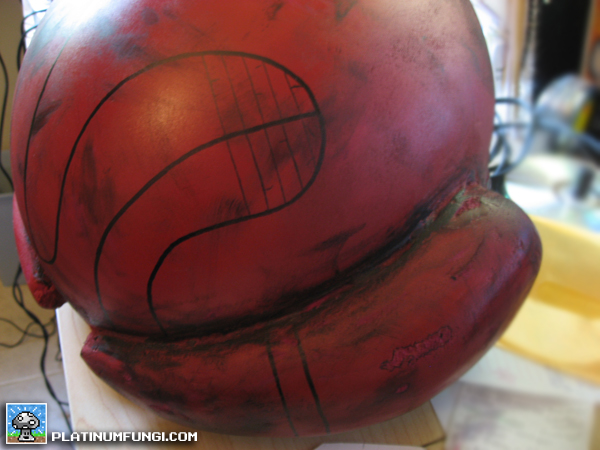 Now we're down to the inside!
Using whatever scraps of foam I had, I hot glued them in place. Try on the helmet, see how it fits, then add some padding. Keep doing this until you have a nice comfortable fit. Do one piece at a time.
This particular helmet needed LED lighting. I took a battery holder from RadioShack and wedged it in a crack between two pieces of the foam.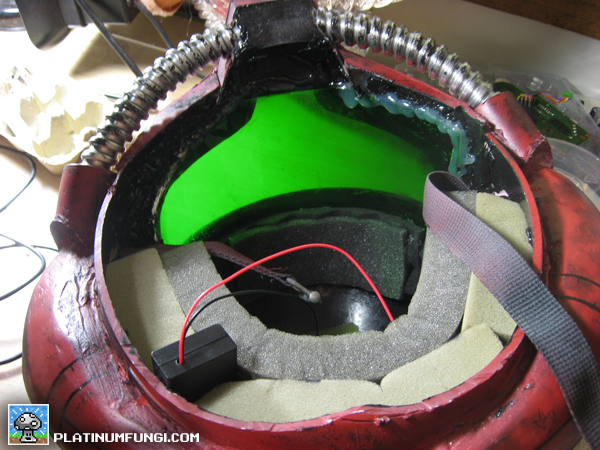 Using a basic two way switch, I wired up a few green LEDs to the battery pack. I sanded the heads of the LEDs to diffuse the light so it doesn't blind the wearer. Flip the switch ON, and your face is light up with even more green light. Leave the switch OFF, and you have a nice creepy dark green face.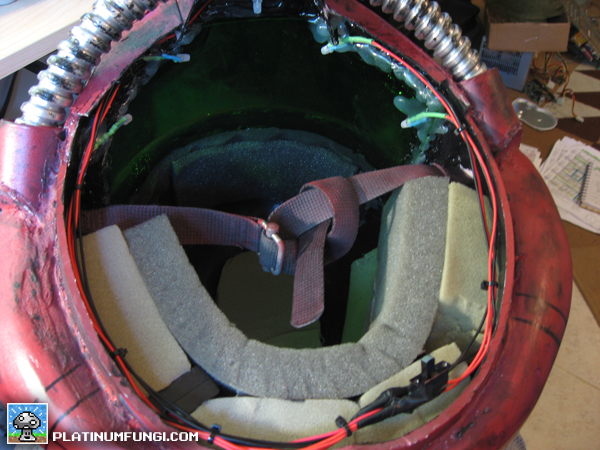 Here's a test shot of the lighting: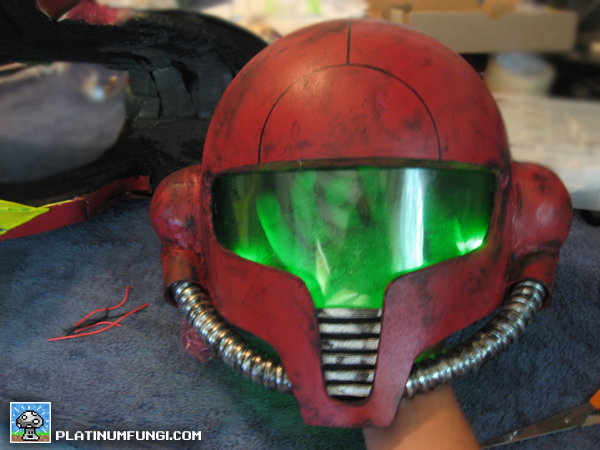 And then, after a heck of a lot of work, it's finished

(That's Kelly Johnson wearing the full costume shown below.)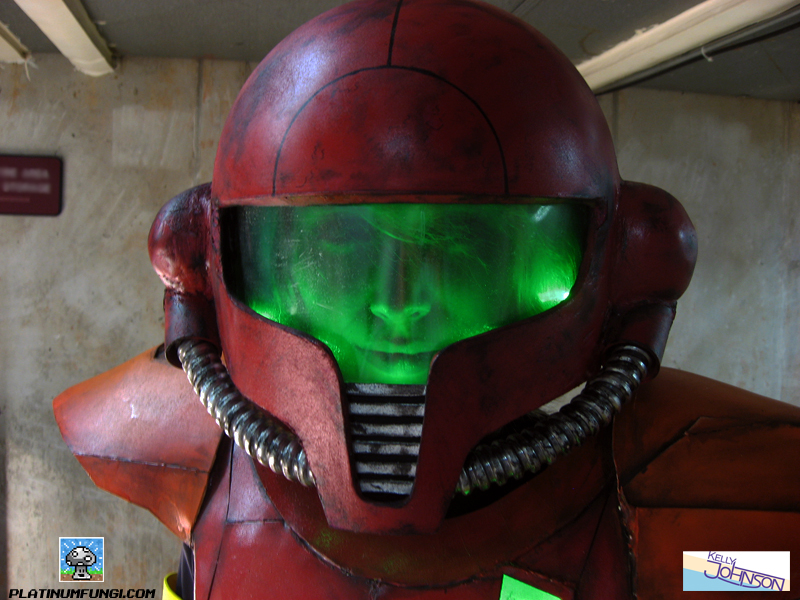 I hope you enjoyed this DIY Guide!
Questions? Comments? Let me know. I'd love to hear about your own Metroid adventures.
Platinumfungi